Cryogenic Bayonets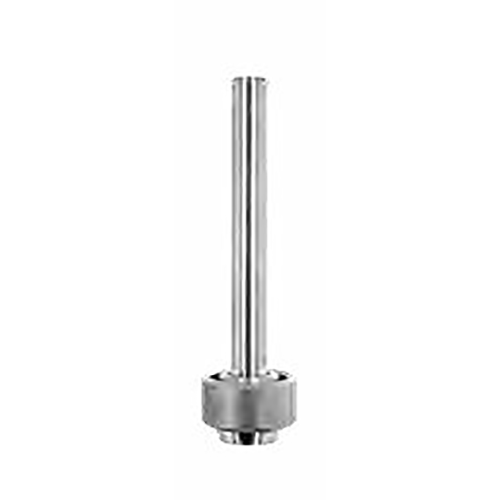 Cryocomp manufactures high quality cryogenic bayonets, needed for safe and effcient cryogenic transfer & piping systems. The bayonet is a mechanical joint which allows for the connection of sections of vacuum-jacketed/fex lines & pipe that can be dismantled and assembled easily in the feld while maintaining low heat leak at the joint.
CB700 Series Cryogenic Bayonets (Linde style)

CB700 Male Bayonet

CB700 Female Bayonet

The CB700 Series Cryogenic Bayonet design is a tube sized high-efficiency connection for vacuum insulated piping and transfer line applications. This series utilizes a threaded connection nut to facilitate easy connection and separation functions. A close tolerance seal design maximizes the efficiency and a silicone O-ring assures tight sealing at cryogenic temperatures. The bayonet is available in four lengths, 3", 6", 9" & 15" to interchange with new or existing installations. The CB700 will operate efficiently in the vertical or horizontal positions and is recommended for use with most cryogenic fluids including nitrogen, oxygen (with proper cleaning) argon and helium.

B3000 Series Cryogenic Bayonets (Piping)

B3000 Male Bayonet

Seal

V-Band

B3000 Female Bayonet

Cryocomp bayonet assemblies offer low heat leak and quick solution field installation. Our B3000 Cryogenic Bayonet series is a high-efficiency tube & pipe connection for vacuum-jacketed transfer lines and vacuum insulated piping systems. The assemblies range from 1/2" tube to 1" pipe with a 150 PSI MAWP. The design utilizes an extremely close tolerance fit between the male and female components establishing a gas pocket (vapor lock) between the components to form a seal, which is at process stream temperature at one end and ambient at the other. The very small gas pocket and thin stainless elements contribute to the high-efficiency of the design. The close tolerance design eliminates the necessity of a nose seal. Other advantages are frost-free transfers, minimization of heat leak and easy disassembly. The pipe product line connects with a clamping system for continuous leak-free operation. Bayonet assemblies offer savings in terms of decreasing field assembly time and lower installation costs coinciding with low heat leak
CB700 Tube Size Linde Style Bayonets

TECHNICAL DATA

• Will operate efficiently in the vertical or
horizontal positions.

• Designed in four thermal lengths: 3" to interchange with existing Linde installations, 6", 9" and 15" to fit most thermal and physical criteria.

Inner lines are tube size and available in
1/2" OD only. Adapters are available for
1/4" and 3/8".

MAWP: 150 PSIG

Recommended for use with most cryogenic fluids including nitrogen, oxygen (with proper cleaning and seal material), argon, and helium.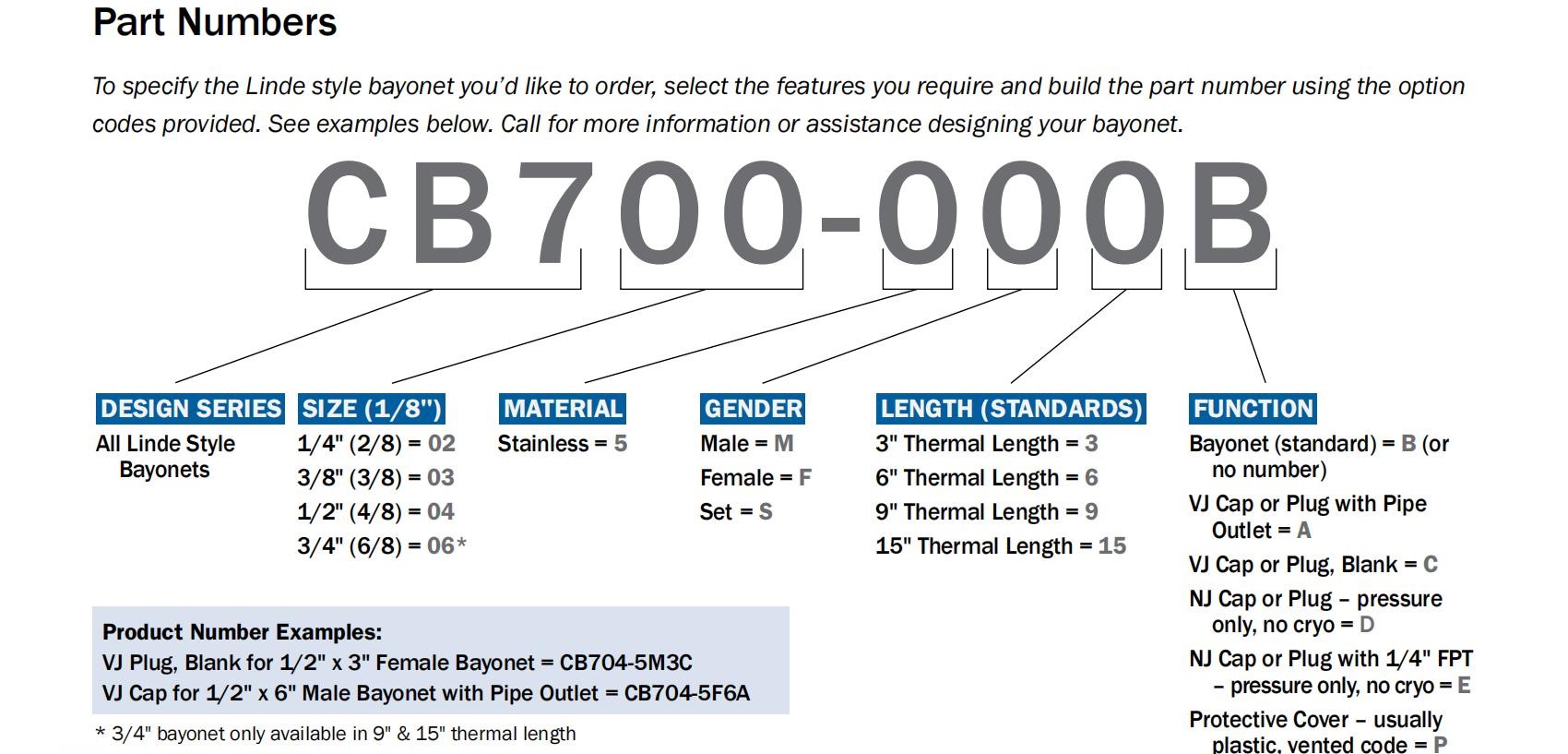 B3000 Series Pipe Size Bayonets

TECHNICAL DATA

Highly efficient and reliable close tolerance design for vertical or horizontal applications.

Designed for fast and convenient installation for piping fabricators.

No clamshell required.

MAWP: 300 PSIG.
Proof: 450 PSIG

All internal components leak tested to 1 X10-9 SCC GHe/SEC.

Convenient v-band closure.
Bayonet Installation
Vertical bayonets must be installed with the male above the female, no exceptions. (FIG. 1) For best thermal results it is necessary to have the flange or closure junction and seal at the upper most location and the cold interface at the bottom. This forms a gas pocket between the liquid interface and the O-ring which keeps the seal at a nearly ambient temperature.

Horizontal bayonet sets can be installed with the male either up stream or down stream.[FIG. 2) Industry convention has
generally located the male upstream, but it does not physically or thermally make a difference. On all bayonets, be sure to lightly grease the O-ring seal with a system compatible grease. This allows the O-ring to establish a much tighter seal. With the CB700 style bayonets, be sure the knurled nut is tight to 5 to l0 ft-lbs.

For flanged bayonets, be sure to grease the O-ring seal with a system compatible grease. After tightening the V-band tension nut, tap the outside of the strap at several points around the OD with a plastic hammer to firmly seat the "V" section on the flange and then re-torque the nut. (FIG. 3) Repeat this process at least 2 more times.